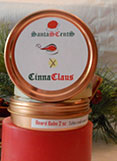 Cinna
Claus
Freshly grated cinnamon right from the sticks. True cinnamon scent like in Grandma's kitchen during the holidays. Energizing and enticing aroma.
2 oz. can $18.00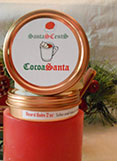 Cocoa
Santa
Warms with your skin to provide a rich creamy and sweet fragrance with plenty of cocoa. The soul yearns for chocolate. It's the ultimate indulgence of life. One of Santa's favorite beverages to have with cookies!
2 oz. can $18.00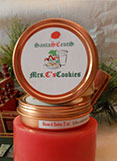 Mrs.
C's
Cookies
Fresh baked cookies out of the oven. Can you smell these buttery cookies and the vanilla frosting? Santa can hardly wait to have some!
2 oz. can $18.00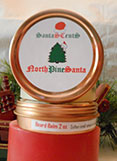 North
Pine
Santa
Clean and crisp balsam base. Reminds one of a wonderful walk in the northern woods with ice and snow in the air. A woodsy and earthy undertone with cold crisp mountain air to top it off. North Pole fresh!
2 oz. can $18.00