The Scents of Christmas
SantaSCents fragrances are made with the highest quality and purest concentrated extracts available from the aromatic parts of herbs, flowers, trees, grains, spices and powders. They are blended together to compliment each other. They are natural substances that have the ability to positively influence the mind and body; affecting mood, emotion and physical well being.

We hope you enjoy these fragrances as much as we have enjoyed creating them. They are concentrated mixes to create long lasting effects. All of our fragrances are made with several 100% Pure Natural Essential Oils blended together with love since 2006 when we first introduced our products at one the largest Santa gatherings – The Discover Santa Convention in Branson, MO.

We just celebrated our 10th Anniversary at Discover Santa 2016 in Branson, MO and rolled out a new product line to include Beard Elixir and Beard Balm. These products are packed full of nutrients needed to nourish and keep your beards in the best possible condition. We also added lip balms which are amazing! Our new products have the same superior quality required to carry our SantaSCents name and logo. We hope you enjoy the benefits of the products as much as our family enjoys the adventure of designing and producing them in Minnesota.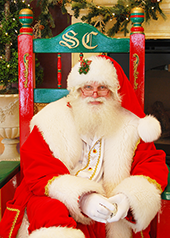 Santa Randy
Our signature SantaSCents fragrances are designed to take the Santa and Mrs. Claus magical experience to a whole new authentic level. Feedback and little stories from our customers have been heart warming over the years. Children and adults notice the Christmas scents when visiting with Santa and Mrs. Claus. We continue to enjoy and cherish our long time clients and welcome new clients to try our scents!